Hosted in-person by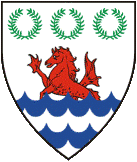 The Barony of Stromgard (Vancouver, WA)
Event Main Contact (Event Steward): Helvi av Gotland
Date: December 16 , 2023
Site opens at: 10:00 AM on December 16th 2023
Site closes at: 9:00 PM
Event site:
Manor Grange 17901 NE 72nd Ave Vancouver, WA 98686
---
This is a Level 2: Branch Event where no Kingdom or Principality business is expected to be conducted event.
___________________________
(See Dual Yule Event website for ALL DETAILS)
Dragons' Mist and Stromgard invite you to Come and Celebrate Yule with food, fun and games!
You'll find all the most up-to-the minute information on the website (click the link above).
This event is heavily theme-oriented:  "a Gotlander Jul: a Time of Sheep & Ships!"