Hosted by
The Barony of Seagirt (Victoria, BC )
Event Main Contact (Event Steward): Esa inghean Alasdair
Date: August 9 , 2019 until August, 11 2019
Site opens at: 4:00 PM on August 9th 2019
Site closes at: 4:00 PM on August 11th 2019
Event site:
Private Farm 4409 Bennett Road Victoria, BC V9C 3Y3
---
The next Seagirt Trials (formerly called Serjeants, Yeomans and Gallants) will be held in Metchosin on Aug 9 – 11, 2019, at 4409 Bennett Rd, Victoria, BC V9C 3Y3.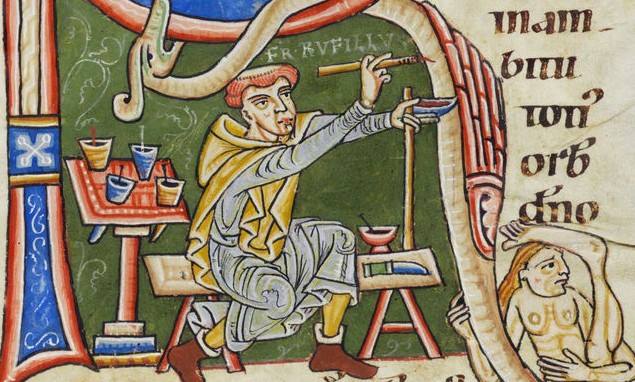 Facebook Event
An Tir Event Site
SITE LOCATION:
Private farm located at 4409 Bennett Rd, Victoria, BC V9C 3Y3
Site Opens: Friday, Aug 9, 2019 at 4pm
Site Close: Sunday, Aug 11, 2019 at 4pm
SITE FEES:
Adult Event Registration: $25
Adult Member Discount Registration: $20
Youth and Children: Free
Make checks payable to "The Barony of Seagirt"
DRIVING DIRECTIONS:
From Hwy 1, take the exit to Hwy 14 (Veterans Memorial Parkway) and head south towards Sooke. Drive to the end of the road and turn right at Latoria Rd. At the end, turn left on Happy Valley Road. Before you reach the town of Metchosin, turn right on Bennett Road. Number 4409 is a private farm located at a bend in the road. Watch for SCA signs.
ADDITIONAL SITE INFORMATION:
Dog friendly (An Tir leash laws).

On site water is a tap near the barns (a few minute walk from where we're camping).

The site is very WINDY, please bring strong/long tent pegs and ensure things are strapped down well.

Please remove all personal garbage/recycling from site.

NO FIRES however propane braziers are allowed with ready fire suppression (e.g, water bucket).

FOOD: There is a local cafe that delivers to site! MyChosen Cafe, 4492 Happy Valley Road, Metchosin BC, Cafe: 250-474-2333, Pizza: 250-474-5576
SCHEDULE: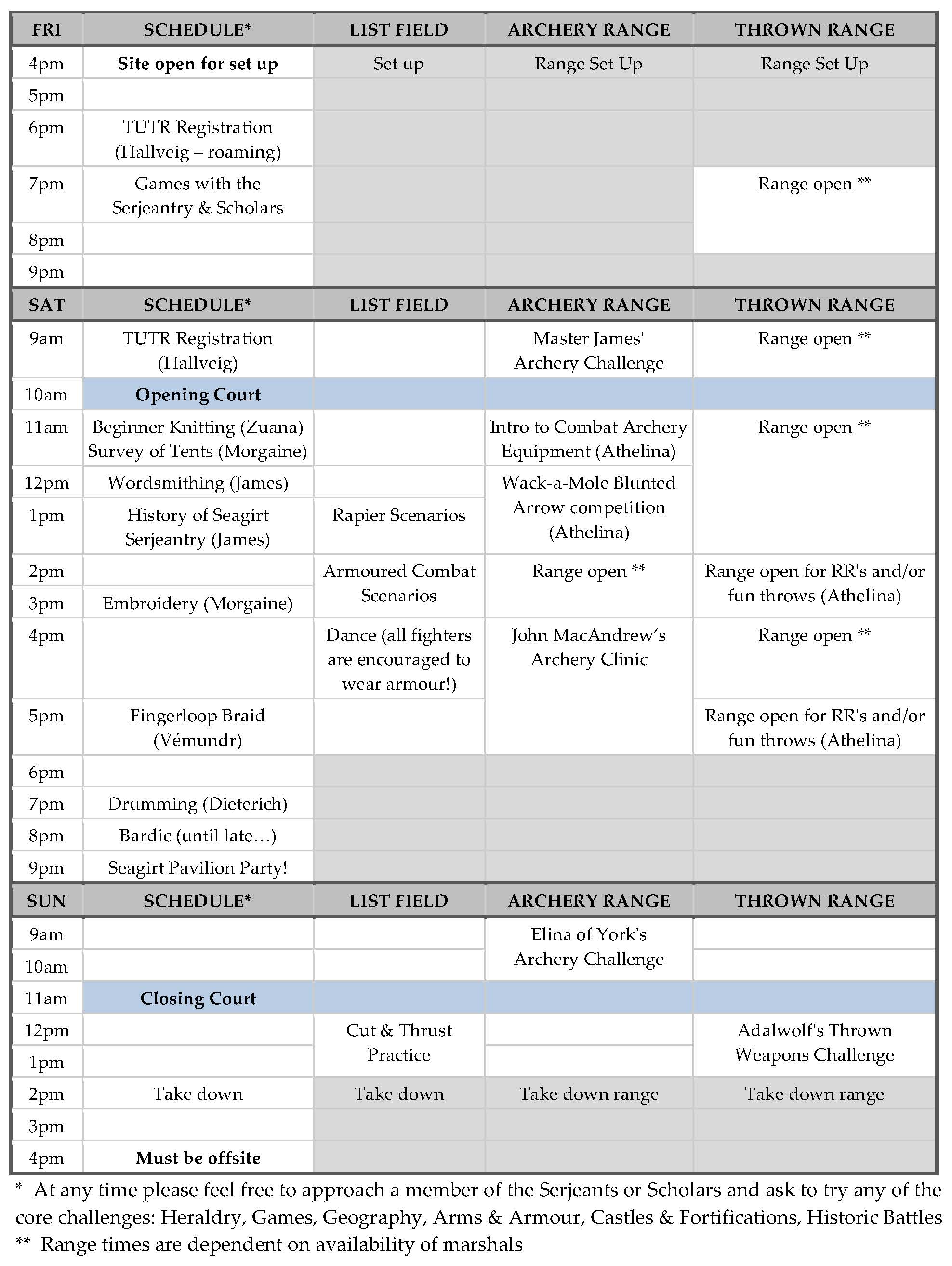 TUTR CLASSES SATURDAY AUGUST 10:
Registration


Registration at the TUTR pavilion until 10am on Saturday. Mobile registration Friday after 7pm and Saturday after 11am; please seek out Lady Hallveig (Janice Mandy). All classes will be held in the TUTR pavilion unless otherwise noted. Please bring exact change.

11:00 Beginner Knitting with Zuana of Insula Magna $2


Create a cup cozy. Those with previous knitting experience may have an opportunity to learn to read charts to make a leaf design on their cozy.

11:00 Survey of Tents with Morgaine Essex. $2


Meet at the classroom tent, and then take a walking tour around camp to discuss the benefits and difficulties of various styles of tents and pavilions in the SCA.

12:00 SCA Wordsmithing with Master James Llewellyn ap Gruffydd $2


Learn the basic components that make up SCA scroll wordings, how to create them freeform, and how to extract the needed components from documented period sources.

1:00 History of the Serjeantry in Seagirt with Serjeant Emeritus James Llewellyn ap Gruffydd $2


Learn the beginnings of the Baroness' own Serjeantry; why it was first created and how it has changed over the years leading to our current model.

3:00 Beginner Embroidery with Morgaine Essex $2


This class is for individuals with little or no experience with a needle and thread. We will discuss needles, hoops & frames, floss (thread) and techniques. We will also discuss practical applications for embroidery/embellishment on garb. This will be followed by a lesson on how to embroider 3 basic stitches. Students will leave with a small project which they can finish at their own pace.

5:00 Beginner Fingerloop Braid with Vemundr Syvurson $2


Learn the absolute basics of fingerloop braid, a technique for making small ties/laces. Students will have an opportunity to try round, flat, and spiral braids. More techniques may be explored if time allows.

7:00 Middle Eastern Drumming with Dieterich von Kleinberg $2


Learn or practice the basics of Middle Eastern rhythms. Please bring a Djembe or Doumbec if you have your own or are able to borrow. Students are invited to take part in bardic activities following the class.